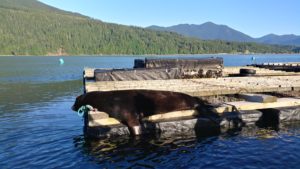 Congratulations to Dillon McEdward, winner of $100 and the PCSGA's June Ecosystem Services Photo Contest!!
His picture is of a large Stellar Sea Lion hauled out on a mussel rafts in Quilcene Bay, WA. Shellfish rafts play an accessory role as a safe haul out site for marine mammals, one which is away from beach disturbances and provides quick access to the water for feeding. Rafts also provide quick escape for sea lions and seals when orcas are present.
Submissions for the next photo contest are due on July 15th. The contest is open to the public. Find more information here: http://pcsga.org/ecosystems-services-photo-competition/ — at Quilcene Bay.