How an Oyster's Environment Plays Into Its Taste

(Posted Date: October 21, 2013)
Port Gamble S'Klallam Sustainable Shellfish Program RFP's

(Posted Date: September 26, 2013)
Ocean acidification center another example of state leading the nation

(Posted Date: August 19, 2013)
Nice article on the new UW Ocean Acidification Center created with the $1.8 million recently appropriated by the legislature. www.washington.edu/news
Shuck Some of the World's Best Oysters

(Posted Date: August 5, 2013)
A 5 minute piece on Hog Island Oyster Co. on NBC-TV tonight.
Don't Discount (Smart) Farming

(Posted Date: May 20, 2013)
Drakes Bay Update

(Posted Date: May 20, 2013)
Job Opportunity: Ekone Oyster Co.

(Posted Date: May 20, 2013)
Farm Lead
Wage: Starting at $12 – $15/hour depending on experience
Located on the Willapa Bay on the Washington state coast, Ekone Oyster Company, a leading oyster farm and producer of oyster and seafood products, is looking for a Farm Lead for our year round oyster planting and harvesting efforts.
If you have prior agricultural experience, are mechanically skilled, prefer working in outdoor conditions and living in a rural community, then we want you to apply!
Duties & Responsibilities:
Assess conditions, growth levels and product quality in order to maximize harvest output and meet anticipated harvest dates.

Inspect oyster beds to determine conditions and needs for preparing or harvesting.

Based on weather, tidal conditions and harvest needs, estimate labor requirements, plan and coordinate work schedules accordingly.

Direct or assist with the adjustment or repair of boats, equipment or machinery.

Drive or operate machinery, such as tractors, forklifts, overhead cranes, frontend loaders, 2-ton flatbed trucks, CDL trucks and hydraulic machinery, to transport workers, product or supplies.

Confer with managers to evaluate weather, tide and crop conditions, and to discuss planting and harvesting schedules.

Maintain positive teamwork and reliability, being at work on time when scheduled.

Perform safety inspections and follow all safety standards and procedures.
Job Requirements:
Since this position requires operation of a documented vessel, applicants MUST BE A U.S. CITIZEN.

Agricultural work experience including exposure to crop planning and output, manual labor, prioritizing activities based on weather and crop conditions, and dependability.

Employment is conditional on passing of pre-employment drug-screening and validation of being insurable for operation of motorized vehicles.

Valid driver's license.

Basic understanding of Microsoft Word and Excel preferred but not required.

Requires working outdoors, exposed to all weather conditions.

Ability to lift a minimum of 50+ pounds, stand, walk, bend, and stoop routinely and repetitively are required.

Experience with boat operation and tidal conditions strongly preferred.

CDL license desirable but not required.

Ability to speak Spanish preferred but not required.
Job Opportunity: Nisqually Indian Tribe

(Posted Date: May 20, 2013)
SHELLFISH FARM BEACH SUPERVISOR STARTING AT $20.93/HR
This position is responsible for all beach maintenance and provides crew leadership and oversight on a 120 acre Shellfish Farm located in Olympia , WA owned by Nisqually Indian Tribe.
MINIMUM QUALIFICATIONS:
4 years experience in technician position or a combination of experiences and/or education including at least 1 year experience in shellfish farming practices including shellfish farm operational functions and culture of shellfish species.

6 months experience desired in operating and maintaining twin engine barge.

Must have a valid driver's license and must be insurable under the Nisqually Tribe's policy

Must be able to work all necessary tidal events during irregular hours including weekends, holidays and respond to emergencies.
VISIT WEBSITE FOR COMPLETE JOB DESCRIPTION: www.nisqually-nsn.gov/
Apply Online at www.nisqually-nsn.gov/ or email resume to sueshotwell@yahoo.com
The Nisqually Tribe's Indian Hiring Preference applies to this position This Position may be filled immediately in accordance with the Nisqually Indian Tribe's Employee manual adopted and approved by the Tribal Council.
Ocean Acidification Survey

(Posted Date: April 8, 2013)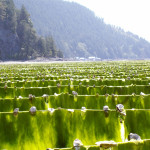 Hello, my name is Becky Mabardy and I am a graduate student at Oregon State University working on an Oregon SeaGrant project. I would like to request your participation in an online survey that focuses on West Coast shellfish industries and ocean acidification. (more…)
Get your SLURP Tickets!

(Posted Date: March 20, 2012)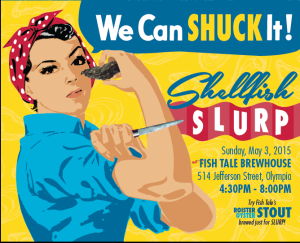 May 3, 2015
4:30 – 8:00 pm
Fish Tale Brew House
Olympia, WA