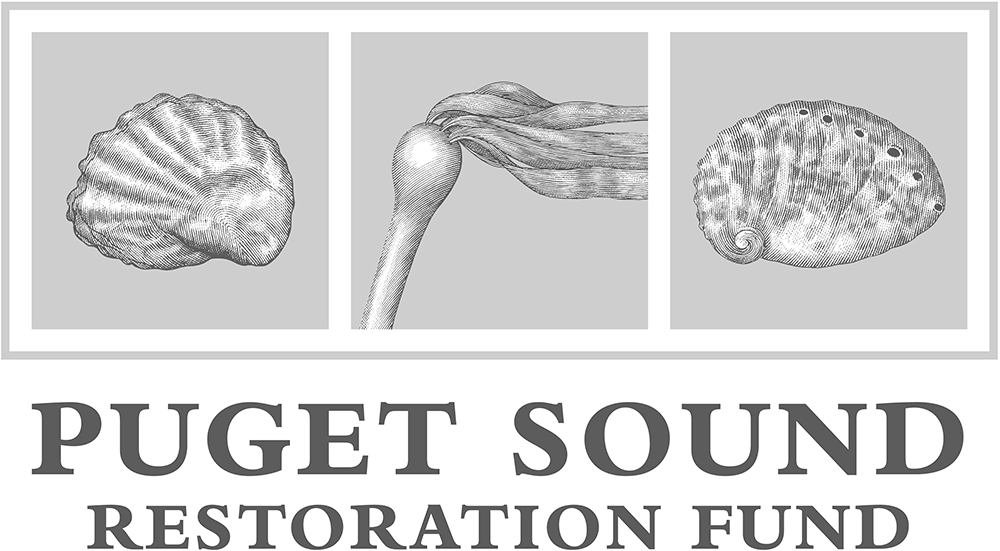 Technician Position Description
Olympia Oyster and Bull Kelp Habitat Recovery Programs
Puget Sound Restoration Fund (PSRF) seeks a Habitat Programs Technician to provide core capacity for our Olympia Oyster and Bull Kelp Habitat Restoration Programs. S/he will have a wide range of responsibilities, supporting the Olympia Oyster and Bull Kelp Habitat Recovery Programs Director to advance habitat recovery program goals. The Technician will work directly with Director of the Olympia Oyster and Bull Kelp Habitat Recovery Programs to develop and implement restoration projects, monitoring campaigns and applied research in the laboratory and field. The Technician's functions include logistics support, materials sourcing and acquisition, minor fabrication, equipment/apparatus development and construction with a variety of materials. Another key function is to assist with biological surveys and studies, including sample collection, preservation, and processing; data collection and archiving; and maintenance of live cultures. The Technician will operate power hand tools and engines, perform animal and plant collection and husbandry, and collect, process, and manage data in both field and laboratory settings. Field work occurs throughout the year in various locations across Puget Sound, and involves work on beaches, from small boats, and with SCUBA. As field activities are scheduled in accordance with the tides, the Technician is expected to periodically work odd hours, days and during inclement weather. Most field work is done in teams, but occasionally is done independently, safety permitting.
The successful Technician will be detail-oriented and have strong communication skills. S/he will regularly be expected to work independently to accomplish program objectives, see tasks through accurately and to completion, and to maintain clean laboratory facilities. PSRF is a team environment, and s/he will have support from the Program Director and other PSRF staff to ensure tasks are successfully accomplished.
The Technician will be supervised by Brian Allen, Director of the Olympia Oyster and Bull Kelp Habitat Recovery Programs. This is a full-time, salaried position, funded for 1 year, with the intent to support the position beyond 1 year. Salary is $35,000. The Technician will receive PSRF's suite of competitive benefits. The primary location for the position is the PSRF main office on Bainbridge Island (8001 Day Road West, Ste. B, Bainbridge Island, WA). In addition to travel throughout Puget Sound for field work, the Technician will spend an average of one day per week onsite with other PSRF team members at the Kenneth K. Chew Center for Research and Restoration operated by PSRF at NOAA's Northwest Fisheries Science Center's Manchester Research Station.
Qualifications
1 year professional experience in the natural sciences or related technical vocation (e.g., resource management) OR a Bachelor's Degree or be working to complete a Bachelor's Degree in an appropriate field of science or technology;
Experience with marine or aquatic organism care or culture;
Demonstrated experience with microscopy, general laboratory equipment and procedures;
Demonstrated extensive recreational and/or professional SCUBA diving experience (e.g., scientific, divemaster, or commercial);
Experience trailering, launching and operating small boats and skiffs;
Knowledge of computer hardware, electronic components and DC electric systems;
Experience with minor fabrication and/or construction; including knowledge of safe use of power tools, application of solvents, corrosives, and other chemicals;
Able to lift and carry 50 lbs;
Ability to prepare written communications and perform data recording/entry;
Experience using common software applications such as Word, Excel, email and web browsers; and
Be at least 21 years old, possess reliable transportation and a valid driver's license, and know how to drive manual transmission.
To apply
Please email a resume and cover letter to Jodie Toft (jodie@restorationfund.org) by February 18th, 2020.