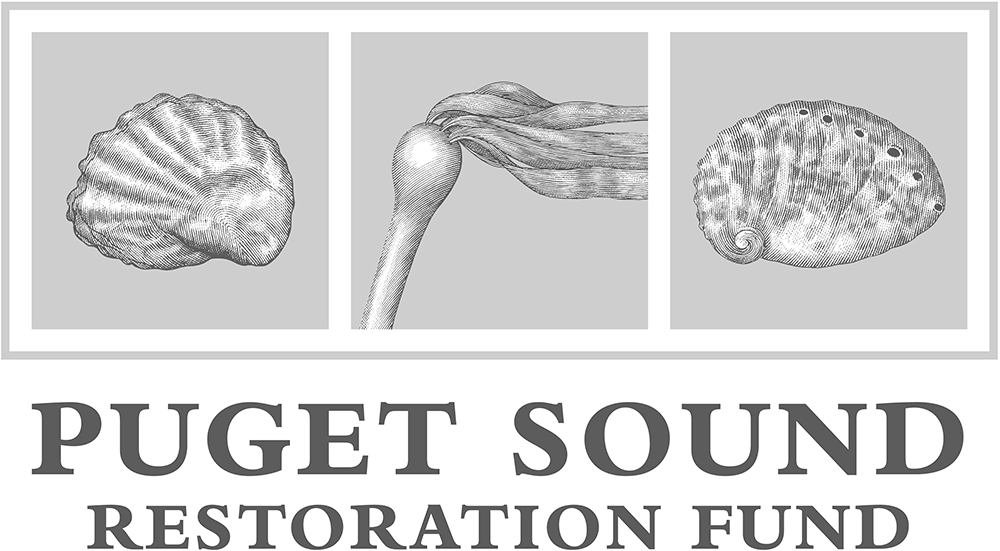 Position Description:
Olympia Oyster and Bull Kelp Habitat Recovery Programs
Puget Sound Restoration Fund (PSRF) seeks a Program Manager to provide core support for our Olympia Oyster and Bull Kelp Habitat Restoration Programs. S/he will have a wide range of responsibilities, working directly with the Olympia Oyster and Bull Kelp Habitat Recovery Programs Director to increase the operational capacity of both programs to advance habitat recovery program goals. S/he will develop and manage grants and contracts, including budgets, communications, reporting and invoicing. The Program Manager will be responsible for developing, submitting and tracking compliance for regulatory permits that authorize in-water restoration work for both programs. Another primary duty will be to work with the Program Director to organize, analyze and use data and model outputs from field surveys, monitoring, and research conducted by PSRF and others. In addition to reporting for grants and contracts, the Program Manager will prepare, deliver and curate accurate, engaging and quality reports to funders and partners. Lastly, s/he will assist with field and lab work as needed. PSRF is a team environment, and s/he will have support from the Program Director and other PSRF staff to ensure tasks are successfully accomplished.
The successful Program Manager will be detail-oriented and have strong communication and collaboration skills. Accuracy is critically important in many aspects of this work, as is the ability to develop and convey clear, timely, and persuasive communications verbally and in writing. The Program Manager will need to work efficiently and often independently to see tasks through to completion. Scheduling, time management, effective administration and regular communications with the Program Director and other team members will be essential to advance these multi-faceted programs. To thrive, the Program Manager will need to comfortably manage multiple projects, at different stages, with shifting priority levels.
The Program Manager will be supervised by Brian Allen, Director of the Olympia Oyster and Bull Kelp Habitat Recovery Programs. This is a full-time, salaried position, funded for 2 years, with the intent to support the position beyond 2 years. Salary range is $50,000-$55,000, commensurate with qualifications and experience. The Program Manager will receive PSRF's suite of competitive benefits. The primary location for the position is the PSRF main office on Bainbridge Island (8001 Day Road West, Ste. B, Bainbridge Island, WA) with the option to telecommute 1 day per week. Additional travel is expected for meetings and to be onsite with other PSRF team members at the Kenneth K. Chew Center for Research and Restoration operated by PSRF at NOAA's Northwest Fisheries Science Center's Manchester Research Station.
Minimum Qualifications
Bachelor's degree and 2 years' experience in relevant field of science or technology (e.g., marine science, natural resource science, land use/environmental planning, public administration with environmental focus), or equivalent combination of education and experience;
Well-established project management and organizational skills;
Experience using common software applications such as Word, Excel, and web browsers;
Success developing and managing budgets;
Demonstrated ability to effectively work independently, while building and maintaining collaborative work relationships;
Excellent written and verbal communication skills; and
Candidates must be at least 21 years old, have a valid driver's license, and able to lift and carry 50 lbs.
Preferred/Desired Qualifications
Master's degree in fisheries, marine or environmental science; land use, environmental, or natural resource planning; or management, geography, land use or environmental law, public administration with an environmental emphasis, or related field;
Five years of professional experience in land use, environmental, natural resource planning or management, and/or program development or equivalent combination of education and experience;
Professional SCUBA experience (e.g., scientific, divemaster, or commercial);
Proficiency with data analysis and statistics, including use of software (e.g., R, Strata, SPS, SPSS);
Demonstrated ability to interpret technical information for inclusion in or support of program deliverables;
Track record of effectively building partnerships and consensus with a wide range of individuals and organizations;
Success working with or for environmental organizations, stakeholders, or regulators to develop and/or implement project-based work; and
Experience driving vehicles with manual transmission.
To apply
Please email a resume and cover letter to Jodie Toft (jodie@restorationfund.org) by February 11th, 2020.