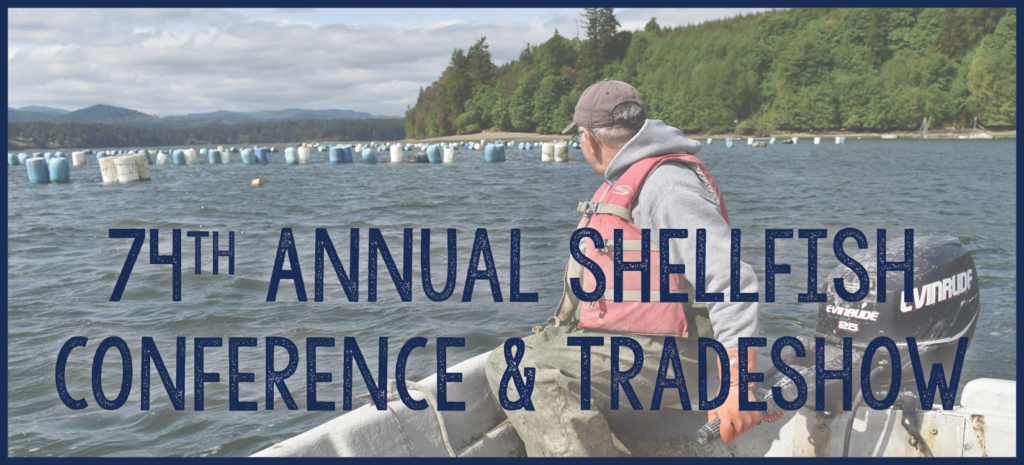 The PCSGA and NSA-PCS Shellfish Conference and Tradeshow is an opportunity for growers, researchers, agency staff, industry partners and students to explore new research findings, consider public policy issues facing the shellfish industry, and to share stories and learn from each others' experiences.
While we will miss seeing you in person, we are excited that this virtual meeting will offer new opportunities to expand participation and remove geographical barriers.
There are three jam-packed days planned from Tuesday through Thursday, October 6-8:
Keynote, invited speakers, and John Lentz Profiles in Innovation Speaker Series
30+ live presentations with opportunities to participate in Q&A
Workshops:

Diversity and Inclusion
Feeling Crabby: Biology, Ecology & Fishery Management of Harvested Crab Populations in the Northeast Pacific
Grower Resources, Tools and Marketing

Poster Session
Tradeshow Spotlights
NSA Student Awards
NSA Silent Auction
NSA Silent Auction:
Please join us in participating in the virtual auction! Funds generated from this auction helps to support NSA student sponsorships. (details to come)
Conference Registration Tradeshow Registration Submit Abstracts
Agenda
Speakers
Tradeshow
Posters
FAQ
Keynote Speaker:
Jessica Gephart
Assistant Professor in Environmental Science at American University
Jessica Gephart is an Assistant Professor in Environmental Science at American University who focuses on the role of global seafood trade in sustainable and resilient food systems. Her research falls into three main areas: 1) the environmental impact of seafood production and the role of trade in driving these impacts; 2) risks and resilience of seafood trade to environmental variability, and; 3) feedbacks between food systems and the environment. Collectively, her work aims to identify opportunities to improve sustainability and resilience within the increasingly globalized food system. She received her PhD in Environmental Science from the University of Virginia and was a postdoctoral fellow at the National Socio-Environmental Synthesis Center (SESYNC). In her keynote Dr. Gephart will discuss past shocks to seafood production and trade, how the COVID-19 pandemic impacts on the seafood sector has threatened food and nutrition security, and lessons that can be learned to build resilience in the shellfish aquaculture industry.
John Lentz Profile in Innovation Speaker Series:
Stephanie Moore
Research Oceanographer, Northwest Fisheries Science Center
Stephanie Moore is a Research Oceanographer with NOAA Fisheries at the Northwest Fisheries Science Center in Seattle, WA. Her research focuses on the social and ecological interactions of harmful algal blooms with climate-driven changes in marine environments. The use of advanced technologies, such as robotic biosensors, is a central component of her work to develop a mechanistic understanding of toxic bloom formation and provide early warning. Steph obtained her PhD from the University of New South Wales, Australia, in 2005. Before joining NOAA in 2017, she was a Research Associate with the University of Washington's Climate Impacts Group and the School of Oceanography, and Project Scientist with the University Corporation for Atmospheric Research. She is currently a voting member of the National Harmful Algal Bloom Committee and is an alumni JPB Environmental Health Fellow with the Harvard T.H. Chan School of Public Health. Steph received a U.S. Department of Commerce Gold Medal Award in 2018 and the Presidential Gears of Government Award in 2019 for her work to advance rapid and remote detection of harmful algal bloom toxins using the Environmental Sample Processor.
Additional Speakers:
Danielle Blacklock
Director, NOAA's Office of Aquaculture
Danielle oversees the aquaculture component of NOAA's sustainable seafood portfolio. She will also be responsible for providing the strategic vision for developing a strong marine aquaculture industry in the United States. Specifically, she will lead the office's work on several distinct priority areas including regulation and policy, science, outreach, and international activities in support of U.S. aquaculture. Ms. Blacklock comes to this position after serving in various roles within the agency for the past 10 years. Most recently, she served as a Senior Policy Advisor for Aquaculture. Prior to that, she was the Senior Advisor for Operations at Fisheries, providing advice and support to the Deputy Assistant Administrator for Operations. Ms. Blacklock received her Master's Degree in Marine Affairs from the University of Washington, and her Bachelor's Degree in Marine Science from the University of Maine.
Kim Thompson
Seafood for the Future, Aquarium of the Pacific
Kimberly Thompson is the director of Seafood for the Future at the Aquarium of the Pacific in Long Beach, California. Under her leadership Seafood for the Future has become a leader in efforts to promote the important role responsible marine aquaculture (shellfish, seaweed, and finfish) plays in efforts to meet the growing demand for food in a changing climate. She works closely with various stakeholders to assess and work toward solutions to address public misperceptions about responsible marine aquaculture. Thompson has extensive knowledge of how perceptions impact marine aquaculture development in the U.S. and California. She has been leading efforts domestically and internationally to develop and execute science-based communication tools and resources to educate diverse audiences about marine aquaculture.
Linda Cornish
President, Seafood Nutrition Partnership
Linda Cornish is the President of the Seafood Nutrition Partnership (SNP), a non-profit organization she founded to inspire a healthier America and advocate for improved public health and future food security through sustainable seafood. She is a purpose-driven executive who is known for her ability to develop innovative strategies, business models, and plans to address tough challenges. Linda is passionate about helping people get healthier and empowering sustainable solutions.
Linda has established SNP as the trusted voice for seafood nutrition for the industry and the health and nutrition community. She has presented to many groups including Aquaculture America, Aquarium of the Pacific, Bay of Fundy Seafood Forum, Boston Museum of Science, Canadian Aquaculture Industry Alliance, Clinton Global Initiative, Global Aquaculture Alliance – GOAL Conference, Global Seafood Marketing Conference, Groundfish Forum, Seafood Expo North America, Sustainable Seafood Week NYC, World Seafood Congress, and Women of Seafood.
Linda holds a Master of Business Administration degree from the University of California at Los Angeles and a Bachelor's degree in Business Administration from the University of California at Riverside. She lives in Arlington, Virginia with her husband and two Sealyham Terriers.
Tradeshow Spotlight
PCSGA's Allied members are a valuable asset to the industry and the Tradeshow is normally a fun and exciting way to network with our members. This year we will be hosting "Tradeshow Spotlights" within the conference (one each day) to give our Allied members a platform to share with the attendees their latest and greatest products and services offered to the shellfish industry.
Don't miss this opportunity to hear from our Allieds!
Tuesday, October 6th at 12:30 – 1:00 PM
Wednesday, October 7th at 12:00 – 12:30 PM
Thursday, October 8th at 11:45 – 12:15 PM
Join our first ever Virtual Poster Session on Wednesday, October 7th! Each presenter will give a 5-minute "summary speech" about their poster followed by a 3-minute Q&A. All posters will be available to view at any time over the duration of the conference.
Poster Presenters:
Robert Allison: Investigating turbidity-total suspended solid relationships in Rehoboth Bay aquatic systems.
Mohana Gadde: Analysis of carbon and nitrogen isotopes to assess nutrient loading in Rehoboth Bay, DE and its effects on oyster activities
Memory Nakazwe: Comparing the impact of artificial oyster reefs and oyster farms on wild oyster restoration, aquatic species diversity, and water quality in Delaware Inland Bays
Jacquiline Maina: Comparing stable carbon nitrogen isotopes to examine feeding trends in Blue Crabs (Callinectes sapidus) across vegetation zones in Blackbird Creek
Jackelyn Garcia: Biotoxins in Native Clams of Traditional Significance
Sean Hamel: Using Baited Remote Underwater Video (BRUV) to Determine the Presence and Behavior of European Green Crabs (Carcinus maenas) From the Washington Coast into the Puget Sound
Michael Girardin: Using eDNA to Determine the Distribution of the Invasive European Green Crab (Carcinus maenas) from the Washington Coast to the South Puget Sound
Althea Marks: In Situ Clearance Rates of Olympia Oyster (Ostrea lurida) Habitat and Pacific Oyster (Crassostrea gigas) Aquaculture
Natalie Lowell: Population Structure and Adaptive Differentiation in the Purple-hinged Rock Scallop and their Implications for Aquaculture
Guidelines on Poster Submission and Layout
Poster basics:
You can create your poster using PowerPoint, Adobe Illustrator, Canvas, or any other appropriate program. Poster dimensions are maximum width of 48 inches and maximum height of 36 inches. The file size may not exceed 20MB, and you must save and submit your file as a PDF. Posters must be sent to outreach@pcsga.org no later than Friday, October 2nd.
Poster design & layout:
Poser design can enhance or diminish the effectiveness of your presentation. Below are some general consideration guidelines.
The focus of attention must be on the subject content.
Larger visuals that are relevant to the subject content attract more attention.
Relate content of the text to the visual it describes.
Too many visuals and text in a small space decreases readers' attention.
Avoid using extravagant fonts.
Use bulleted lists to facilitate reading.
Provide good contrast between the test and background.
Conference Dates: October 6-8, 2020
Registration Rates:
Member Rates $150 Early Bird Rate: $90
Non-Member Rates $280 Early Bird Rate: $180
Student Rates $110 Early Bird Rate: $70
Early Bird Cut-off: September 15, 2020
Registration Closes: October 5, 2020
Tradeshow Registration:
The Tradeshow is a little different this year. We have designated "Tradeshow Spotlight" sessions throughout the conference that gives PCSGA Allied Members an opportunity to share their products and services with conference attendees.
If you are an Allied Member in good standing and want to participate, contact Connie Smith for more information (conniesmith@pcsga.org) or call the office at 360-754-2744
Tradeshow Registration Closes: September 30, 2020
Are presenters required to register for the meeting?
Yes. All presenters must register for the meeting. Please note that abstract submission does not register you for the meeting. Registration will be required to present, view presentations, ask questions and participate in live sessions.
Are students required to register?
Yes. Whether you are a presenter or an attendee, you must register.
Is there financial assistance for students?
Yes. Financial assistance is available to students for conference registration. Students requiring financial assistance should indicate a request with their abstract. Questions regarding financial assistance may be directed to NSA Treasurer Sandy Zeiner at szeiner@nwifc.org
Why is there a registration fee?
Convening the 74th Annual Shellfish Conference & Tradeshow requires the purchase of sophisticated technology with licensing fees to deliver invited presentations, and oral and poster sessions with an unprecedented combination of synchronous and asynchronous elements, to provide robust cybersecurity, and to make all content available to registrants over an extended period after the meeting ends. In addition to covering the costs of technology, registration fees support the labor needed to execute the virtual event and to assist both presenters and attendees in these novel interactions.
Will there be Student Awards this year?
Yes. NSA-PCS will present an award for the best student presentation at the conference. If you are a NSA-PCS student member (in good standing) and wish to be considered, please state your interest by checking the box on the Abstract Submission Form. Student presenters must be enrolled in an accredited post-secondary institution (or recently graduated) at the time of submission to be considered for an award.
What virtual platform will the conference be using?
We will be using Zoom Webinar and Meetings platforms. They are user-friendly, but if you want to prepare yourself before the event, watch these tutorials below.
How will talks and workshops be presented?
Majority of the talks and workshops will be live with each presenter sharing their screen and controlling their own advancement of slides. Time allowed for standard presentations is 12 minutes, with 3 minutes for Q&A.
Watch this Zoom tutorial on how to share your screen:
Will Q&A sessions be live?
Yes. Attendees will not be able to verbally ask questions during the Q&A, but are encouraged to utilize the chat feature within Zoom to post questions. Depending on available time, the moderator will ask those questions live for the presenter to answer.
What if I need to cancel my presentation?
When you submit an abstract online, you essentially commit to presenting that talk at the conference. You are highly encouraged to keep that commitment. If, however, you are faced with unforeseen extenuating circumstances that prevent you from giving your talk, you must find someone to give your talk in your absence, and notify conference personnel immediately by emailing pcsga@pcsga.org
What if I need to cancel my registration?
You many cancel your registration following the policy outlined below. You can email pcsga@pcsga.org or call the office at 360-754-2744
Conference Cancellation Policy:
By Tuesday, Sept. 15, 2020 – $10 administration fee
Wednesday, Sept. 16 to Sept. 30, 2020 – 50% refund
After Wednesday, Sept. 30, 2020 – No refund