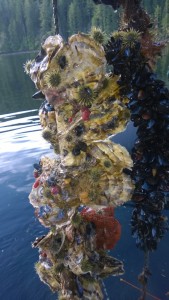 Help tell the story of Ecosystem Services from shellfish farming with Your Photo! And win $100 cash!
Submissions Due The 15th of Every Month
Shellfish culture plays a vital role in providing natural ecosystem services to all living things in our marine environment. Ecosystem services are the beneficial ecological processes or outcomes which result from shellfish farming that we often take for granted.
Such services include:
Improved water quality by filtration
Habitat creation
Coastline stabilization and buffer from storm surge
Protection for marine animals and nursery refugee for early-stage life
Forage opportunities
Nutrient cycling
Carbon sequestration
We need your photos to help document these important ecological benefits! Submit your own photo and win a $100 cash prize!
Photos
Capture an example of ecosystem services and submit it online. All submissions will become the property of PCSGA and will not be returned. Photos will be posted on the PCSGA website and Facebook page - and may be reprinted for use in promotional, research and/or marketing material.
Prizes
A $100 prize will be awarded each month to the photo that best illustrates ecosystem services. In addition, 1st, 2nd and 3rd place overall winners will be awarded prize money totaling $1,000 at PCSGA's Annual Conference! You do not need to be present to win.
Submissions
Submit your photo via email to conniesmith@pcsga.org by the 15th of each month. Submissions must include:
Name
Mailing address
Brief 1-2 sentence explanation of ecosystem service illustrated in photo