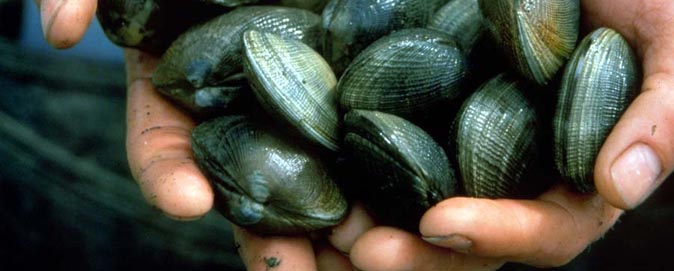 Industry History
The roots of the Pacific Coast shellfish industry can be traced back centuries. Native coastal cultures depended on shellfish as an important mainstay of their diet. Pioneers to the West Coast began actively cultivating and harvesting native Olympia oysters from San Francisco Bay in the 1800's. To keep up with the demand of hungry gold miners during the California Gold Rush, commercial oyster harvesting expanded north from San Francisco into Oregon's Yaquina, Netarts and Tillamook Bays and Washington's Willapa Bay and Puget Sound.
The production of native Olympia oysters rose steadily as a result of cultivation techniques, but success was short-lived due to overharvesting, pollution from pulp mills, increased siltation due to upland logging practices, etc. The Olympia oyster population declined dramatically. To sustain the crippled industry, the hardier Pacific oyster was introduced from Japan on an experimental basis in the early 1900s. It took hold and became the dominant oyster cultivated on the West Coast.
By the mid 1930's, Pacific oysters began to become naturalized and spawn naturally in Willapa Bay and Hood Canal. This natural setting and the advent of shellfish hatcheries allowed importation of seed from Japan to end in the 1970s. To provide for improved predictability of oyster seed supply in years when little or no natural oyster setting occurred, modern private hatcheries have developed on the West Coast, revolutionizing the industry. Domestic hatcheries are the main source of shellfish larvae and seed for farmers up and down the West Coast today, with some wild seed caught in a few areas.
Birth of an Association
As the native oyster industry in Washington grew after the turn of the century, local growers wanted an association to represent their interests. In 1912, the Olympia Oyster Growers Association was formed. When the Pacific oyster was introduced to the West Coast, growers formed a separate Pacific Coast Oyster Growers Association (PCOGA) in 1930 to represent the broader interests of growers in Washington and neighboring states. The two organizations worked side by side for decades until the Olympia Oyster Growers Association disbanded and PCOGA became the sole industry representative. As the shellfish industry grew to include clams, mussels and geoduck, the association changed its name to the Pacific Coast Shellfish Growers Association (PCSGA) in 1999 to more accurately reflect the broadening industry.
PCSGA has grown significantly over the years and now works on behalf of its members on a broad spectrum of issues including environmental protection, shellfish safety, regulations, technology, and marketing. The Association represents farmers in Alaska, Washington, Oregon, California, and Hawaii who grow a wide variety of healthy, sustainable shellfish.