The Pacific Coast is one of the largest shellfish-producing regions in the world. Clear, clean waters, careful handling and processing, outstanding variety and year-round availability assure unsurpassed quality, freshness and value.
Shellfish on the West Coast
Washington dominates the West Coast shellfish industry with extensive culture of Pacific oysters in the coastal bays of Willapa and Grays Harbor. These are sold both as fresh-shucked meat and live in the shell. Willapa Bay also has a growing Manila clam industry. Southern Puget Sound and Hood Canal follow close behind the coastal region with crops of Pacific oysters, and Manila clams cultivated in highly productive nutrient rich waters.
Two species of mussels are grown in both Northern and Southern Puget Sound. Northern Puget Sound (including Hood Canal) is also home to a small segment of family-owned clam and oyster farms and shellfish nursery operations. The Washington shellfish industry supports numerous families, tribes, and employees, in addition to subsistence, ceremonial and recreational harvests that contribute significantly to coastal economies and cultures.
Some Washington shellfish growers have developed niche markets by cultivating a variety of specialty oysters targeted at the half-shell market, including Kumamotos, the Eastern oyster, European flats, and the native oyster. Washington is also home to a burgeoning geoduck clam industry, which started with enhancement of wild stocks in 1991 and moved toward commercial scale enhancement in 1996.
California follows Washington in shellfish production output. Tomales Bay supports a growing native Littleneck clam and bay mussel industry, and a thriving oyster industry targeting a voracious San Francisco half-shell market. Humboldt Bay in Northern California supports extensive bottom, rack-and-bag, hanging basket, and intertidal longline culture of Pacific and Kumamoto oysters, as well as a nursery system that serves as one of the industry's key shellfish seed suppliers.
Oregon's shellfish culture efforts are focused primarily on the Pacific and Kumamoto oysters. Growers in the Umpqua estuary and in Coos, Winchester, and Yaquina bays on the South and Central coasts of the state use a variety of bottom and suspended culturing methods. Tillamook Bay in the North, once a leader in bottom-cultured Pacific and Kumamoto oysters, struggles today to survive the effects of ghost shrimp and mud shrimp by using bottom, intertidal longline, and raft culture methods. Also in the North, Netarts Bay supports a small but growing half-shell producing industry, and is home to one of the West Coast's four shellfish hatcheries.
Alaska supports a hardy lot of family farms pioneering shellfish culture in the last frontier. Against great odds, Alaskan growers produce mussels and half-shell Pacific oysters grown on suspended culture systems in their cold, pristine waters.
Hawaii is most notably a crucial link for the entire West Coast due to the shellfish nurseries and hatcheries sited there. Washington-based companies have hatcheries and nurseries on the Big Island where the tropical climate provides the perfect environment for algae production required for boosting seed production, particularly beneficial during the cool, slow growing winter months in the Pacific Northwest.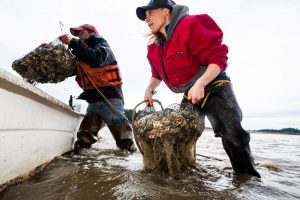 Eating an oyster is like "kissing a mermaid." Live or shucked, oysters are a true delicacy, noted for their succulent flavor. Cultivation techniques allow many varieties to be enjoyed year-round.
Pacific Oysters
known for their fluted, ridged cup

available in a variety of sizes

wonderful served fresh or on the half-shell
Olympia Oysters
original native oyster of the Northwest

most petite among cultivated oyster varieties

known for their sweet flavor
European Flat Oysters
unique layered shells

known for their distinctive coppery flavor

wonderful on the half-shell
Kumamoto Oysters
deep cupped, fluted shell

smooth, fruity flavor

a favorite for eating raw or in a variety of dishes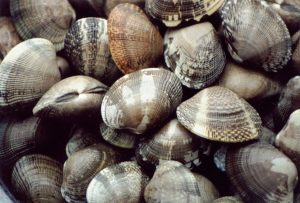 Pacific Coast Clams can be enjoyed year-round. Species vary in size and taste, but are easy to prepare — steamed, fried or in chowder.
Manila Clams
noted for their colorful shell patterns

sweet taste

open easily when steamed
Littleneck Clams
native steamers of Washington

fuller taste than the Manila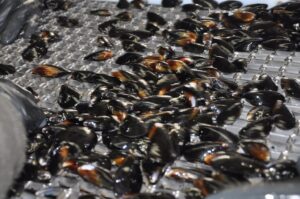 American shellfish connoisseurs' best kept secret. Mussels can be prepared quickly and with their glossy blue/black shells, they are a visual and tasteful delight. Winner of many national taste-test competitions. Great steamed, sautéed or included in seafood soups and dishes such as Cioppino and Paella.
Blue Mussels
original native mussel of the the Pacific Coast

exceptional sweet flavor and tender meat
Mediterranean Mussels
sweet and tender

good in a variety of preparations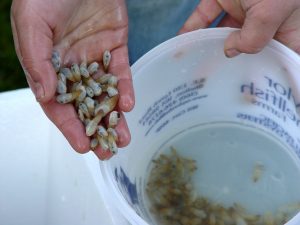 Geoduck clams are the largest burrowing clam native to North America, and have been known to weigh more than fifteen pounds. Available fresh year-round, they are prized as a delicacy for sushi, sashimi, and fritters, and are delicious minced for chowders and dips.
Geoduck Clams
largest burrowing clam in the world
can exceed fifteen pounds
considered a delicacy in Asia
amazing for fritters