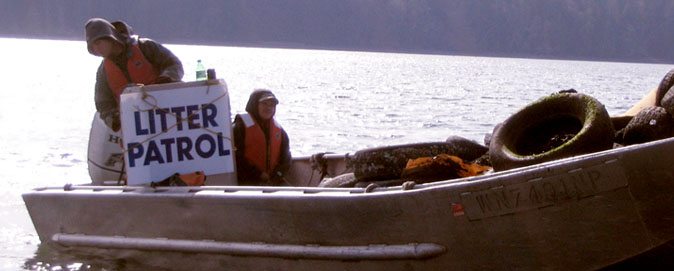 Twice a year, shellfish farmers conduct beach cleanups near their farms, collecting tons of debris, the vast majority of which is not related to shellfish farming.
One of those efforts, recovered five dump truck loads of debris — 85% percent of which had nothing to do with shellfish farming. Most of the debris recovered by the 80 volunteers from 14 South Sound shellfish companies was, as the reporter noted, "junk" discarded by people who live, work, or recreate on the beaches.
That debris included chunks of Styrofoam that had broken loose from homeowners' docks and floats, 58 tires, a tricycle and a 19-inch color television.
Fees to dispose of the debris are raised by the annual SLURP festival, sponsored by the Pacific Coast Shellfish Growers Association.
If you see debris on Washington beaches or in the water, please report it to:
PCSGA Marine Debris Hotline – 1 (360) 489-0141
Ocean Conservancy International Coastal Cleanup
Participate in a cleanup in your area – www.signuptocleanup.org