Join Us for the 22nd Annual
SLURP
Shellfish Lovers Ultimate Rejuvenation Party!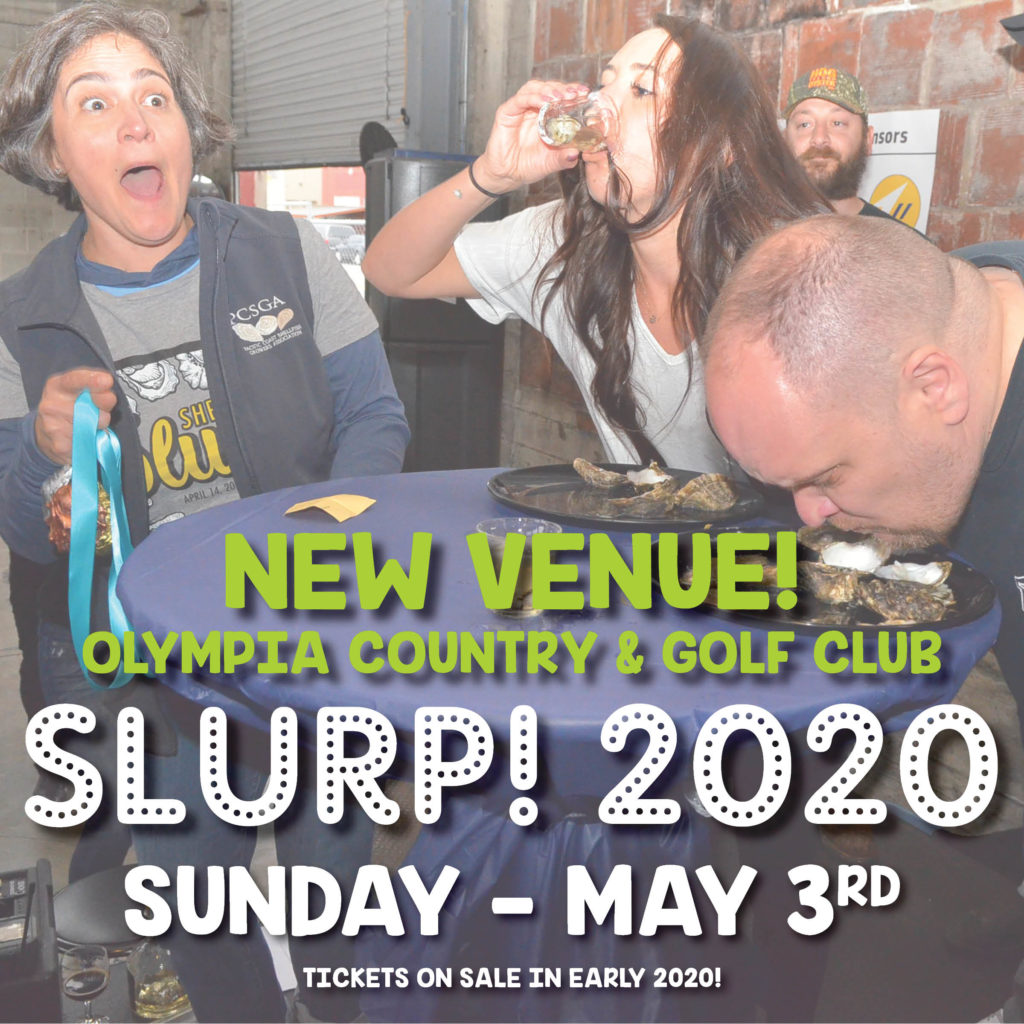 May 3, 2020
4:30 – 8 pm
Olympia Country & Golf Club
Olympia, WA
Buy tickets for SLURP in early 2020!
$65 in Advance, $80 at the Door
Your ticket includes:
Fabulous Feast of Shellfish Dishes made by local restaurants
Taste an Assortment of Washington Wines (if you like what you try, you can purchase it from the wine store)
Assortment of Local Brews
Grand Oyster Bar
Celebrity Slurp-Off
Live Auction
Live Music
100% of proceeds benefit PCSGA's Shellfish Habitat Restoration Fund which provides funding for shellfish education and habitat restoration efforts.
Information on 2020 Participating Companies Coming Soon!
2019 Generously Sponsored By:
Fish Brewing Co.
Plauché & Carr LLP
Lakeside Industries
Duncan Insurance
Norplex Inc.
Northwest Farm Credit Services
Heritage Bank
Kiley Juergens Wealth Management, LLC
Jet City Label
LFS, Inc.
Seattle – Tacoma Box Company
Sorenson Transport Co.
USI Insurance Services
2019 Participating Restaurants:
Fish Tale Brew Pub
Taylor Shellfish Farms
Elliot's Oyster House
Octapas Cafe
Iron Rabbit Restaurant & Bar
Anthony's Homeport
Beau Legs Fish & Chips
Chelsea Farms Oyster Bar
Three Magnets Brewing Co.
Basilico Ristorante Italiano
2019 Participating Oyster Bar Companies:
Hog Island Oyster Co.
Taylor Shellfish Farms
Chelsea Farms
Jamestown S'Klallam Tribe
JJ Brenner Oyster Co.
Hama Hama Oyster Co.
2019 Participating Wineries:

Long Road Winery
Marchetti Wines
Vino Aquino
Orca Wines
Hoodsport Winery
St. Hilaire Winery
Need Lodging?
Swantown Inn Bed & Breakfast
1431 11th Avenue SE
Olympia, WA 98501
360-753-9123
Hilton DoubleTree Inn & Suites
415 Capitol Way N.
Olympia, WA 98501
360-570-0555
The Red Lion
2300 Evergreen Park Drive Southwest
Olympia, WA 98502
360-943-4000