Join Us for the 19th Annual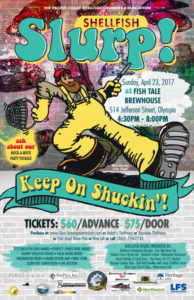 Shellfish Lovers Ultimate Rejuvenation Party!
April 23, 2017 4:30-8pm
Fish Tale Brew House Olympia, WA
Tickets Now Available!
Tickets for SLURP 2017 are now available for purchase at http://slurp.brownpapertickets.com. Alternatively, one month before SLURP, tickets may be purchase at Bayview Thriftway, Ralph's Thriftway, The Wine Loft or Fish Tale Brew Pub in Olympia.
The cost is $60 in advance or $75 at the door.
You might also enjoy our MUCK-A-MUCK PARTY PACKAGE:
Includes early entry for 8 guests at 4 pm, private table/seating, 8 bottles of beer, two bottles of wine, private oyster bar with shucking demonstration from 4-5 pm. Cost is $1100 per table.
Your ticket includes:
Fabulous Feast of Shellfish Dishes made by local restaurants
Taste an Assortment of Washington Wines (if you like what you try, you can purchase it from the wine store).
Brews made by Fish Brewing Co.
Grand Oyster Bar
Celebrity Slurp-Off
Live Auction
Live Music
100% of proceeds benefit PCSGA's Shellfish Habitat Restoration Fund which provides funding for shellfish education and habitat restoration efforts.
Here's a taste of SLURP 2017
Back by popular demand….The Roister Oyster Stout! "The Roister Oyster Stout will be a big beer with 7% alcohol that is characterized by being dark, rich, and creamy. To obtain this brew, whole oysters in the shell are boiled with the beer (note: they are pretty tasty afterwards). The end result is a beer that has a hint of brine and oyster flavor and pairs well with oysters and other seafood."
Generously Sponsored By:
$1200 Main Stage Sponsor: Plauché & Carr
$500 Oyster Bar Sponsor: Duncan Insurance, Heritage Bank, Nisqually Indian Tribe, Lakeside Industries, Inc., Norplex Inc., and Kiley Jeurgens Wealth Management
$250 SLURP Supporters: Marine Surveys & Assessments, LFS Inc., South Sound Bank, Northwest Farm Credit Services, Seattle-Tacoma Box Company, and Jet City Label

2017 Participating Restaurants:
Alderbrook Resort, Anthony's Home Port, Chelsea Farms Oyster Bar, Fish Tale, Kern's Kitchen & Food Truck, Olympia Country & Golf Club, The Pantry @ 222 Market, Redwind Casino, Chef Xinh Dwelley with Taylor Shellfish Farms, Beau Legs Fish N Chips, Waterstreet Cafe, and Elliot's Oyster House

2017 Participating Wineries:
Marchetti Wines, Bainbridge Vineyards, Cameron Winery, Hoodsport Winery, Anam Cara Cellars, Terra Blanca Winery, Piccola Cellars, and Silver Lake Winery

Need Lodging?
Swantown Inn Bed & Breakfast
1431 11th Avenue SE
Olympia, WA 98501
360-753-9123
Hilton DoubleTree Inn & Suites
415 Capitol Way N.
Olympia, WA 98501
360-570-0555
The Red Lion
2300 Evergreen Park Drive Southwest
Olympia, WA 98502
360-943-4000