Join Us for the 18th Annual
Shellfish Lovers Ultimate Rejuvenation Party!
May 1, 2016 4:30-8pm
Fish Tale Brew House Olympia, WA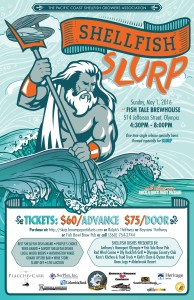 Tickets Available!
Tickets can be purchased at http://slurp.brownpapertickets.com or pick-up at Bayview Thriftway, Ralph's Thriftway, The Wine Loft or Fish Tale Brew Pub in Olympia. The cost is $60 in advance or $75 at the door.
Your ticket includes:
Fabulous Feast of Shellfish Dishes made by local restaurants
Taste an Assortment of Washington Wines (if you like what you try, you can purchase it from the wine store).
Brews made by Fish Tale Brew House
Grand Oyster Bar
Celebrity Slurp-Off
Live Auction – Check out our Auction Catalog
Live Music
100% of proceeds benefit PCSGA's Shellfish Habitat Restoration Fund which provides funding for shellfish education and habitat restoration efforts.
You might also enjoy our MUCK-A-MUCK PARTY PACKAGE:
Includes early entry for 8 guests at 4 pm, private table/seating, a beer growler, a bottle of wine, glasses, private oyster bar, a shucking demonstration at your table, and an oyster/wine pairing demonstration from 4-5 pm. Cost is $1000/table and can be purchased at http://slurp.brownpapertickets.com.
Here's a taste of SLURP 2016
Generously Sponsored By:
$1200 Main Stage Sponsor: Plauché & Carr
$500 Oyster Bar Sponsor: Duncan & Associates, Heritage Bank, Nisqually Indian Tribe, Norplex, Inc., and South Sound Bank
$250 SLURP Supporter: Columbia Bank, Jet City Label, Lakeside Industries, Inc., Mercato's Ristorante, and Seattle-Tacoma Box Company
2016 Participating Restaurants:
Anthony's Homeport Olympia, Beau Legs Fish & Chips, Fish Tale Brew Pub, Kern's Kitchen & Food Truck, Oly Rockfish Grill, Olympia Country Club, Red Wind Casino, The Restaurant at Alderbrook, and Xinh's Clam & Oyster House
2016 Participating Wineries:
14 Hands, Bainbridge Vineyards, Cameron Winery, Chateau Ste. Michelle Wine Estates, Erath Winery, Hoodsport Winery, Marchetti Wines, Perennial Vintners, and Silver Lake Winery
Need Lodging?
1431 11th Avenue SE
Olympia, WA 98501
360-753-9123
Hilton DoubleTree Inn & Suites
415 Capitol Way N.
Olympia, WA 98501
360-570-0555
2300 Evergreen Park Drive Southwest
Olympia, WA 98502
360-943-4000